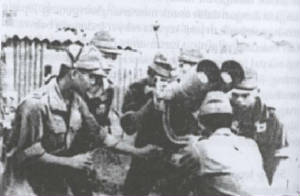 Indonesians' 'Heiho' men in Malaya
On April 22, 1943, the 7th Army HQ in Saigon proclaimed that they give a chance for Indonesian youths to join with theirs army as 'heiho' (auxiliary soldiers). 'Sendenbu' (Japan propaganda service) propagandize that 'heiho' would became a chance for Indonesian youths to serve theirs homeland and nation.

Many Indonesian youths listed as 'heiho' volunteers. After receive theirs training for some months, thousands of 'heiho' were send to frontline to fight the Allied. They were involved in many battlefields, like Burma, Rabaul, Morotai, Balikpapan, etc. According some Japanese sources, 'heiho' usually better than PETA formations in theirs training and weaponry and fought fanatically like theirs own troops.

When the wind of war start to turn against Japan, Japanese became more eager to recruit Indonesian volunteers as theirs 'heiho'. For theirs propaganda, 'Sendenbu' made many stories to propagandize 'heiho' heroism to attract Indonesian youths. One of theirs work was a story about "Heiho Amat". According the fiction story, Amat made a 'jibaku' (suicide attack) against an Allied fortified position by taken a bomb with him. The bomb exploded in the Allied position and Amat body shatter with the explosion.

'Heiho' was a Japanese auxiliary troop. Thus, didn't like the PETA, they didn't have Indonesian officers and lead only by Japanese. During the war, there were 42.500 Indonesian who served as 'heiho'. About 2,500 of them come from Timor, 25,000 from Java, and the remaining came from other areas.